Weeks ago, one of the most respected members of our
Qualisports USA community
, Mr. Frank Watson, shared
a vlog of his experience with Volador
 with us. In the video, Mr. Watson presented how the advent of
Volador
 became his aircraft on the ground when the pilot landed. Today, we are glad to share it in our blog website. Hope you will enjoy the communication and join us in the future.
Mr. Watson is a licensed pilot and has been flying for over 30 years, owning a single-engine plane and a multi-engine plane. After a long period of flight, Mr. Watson needs some convenient ground transportation to lead his way to the nearest hotel or restaurant.
He used to have a fold-up bicycle stored in the baggage compartment of his aircraft, while those big size wheels had to be removed in front of folding up. When there is no quick release on it, the folding-up procedure is no longer an easy way for flight preparation. Moreover, the bike was quite cheap but weighed a lot. Even short miles of rides after flight were still tiring and always drained the rider out with a sweaty shirt. That is why the advent of the E-bike has put Mr. Watson into consideration of replacing his stubborn old bike.
As to specific E-bike selection, Mr. Watson has four important requirements that have to be fulfilled. First and most critical, it must be small enough in dimension to fit in the baggage compartment of his aircraft. Also, it shall be assembled with qualified components. Thirdly, lightweight E-bikes are more competitive in a flying tournament. Fourth and also quite important is its cost-efficiency.
After comparison among varieties of E-bikes on the market, Volador from Qualisports USA is the most preferred one by Mr. Watson. Contrary to those large-size E-bikes, Volador is only 33.5 inches in length, 26.5 inches in height, and 16 inches in width after folding up with or without the battery bar removed either. Its dimension was exactly capable of fitting in Mr. Watson's baggage compartment and benefited from its concise structure design. Thanks to its excellent weight control, 38 pounds of E-bike was easy to carry and suitable for a quick ride after the flight. As to its reassembly process, it was so quick and easy that anyone with experience could unfold and fix it within 30 seconds. With Volador's powerful 36V 7Ah Samsung battery, the maximum range could reach even 31 miles, way stronger than its competitors, with proper pedal assistance. $1199 for a full aluminum bike frame, Shimano derailleur, and reliable disc-brake system have already been one of the most cost-efficient choices, let alone an additional discount on selling pages.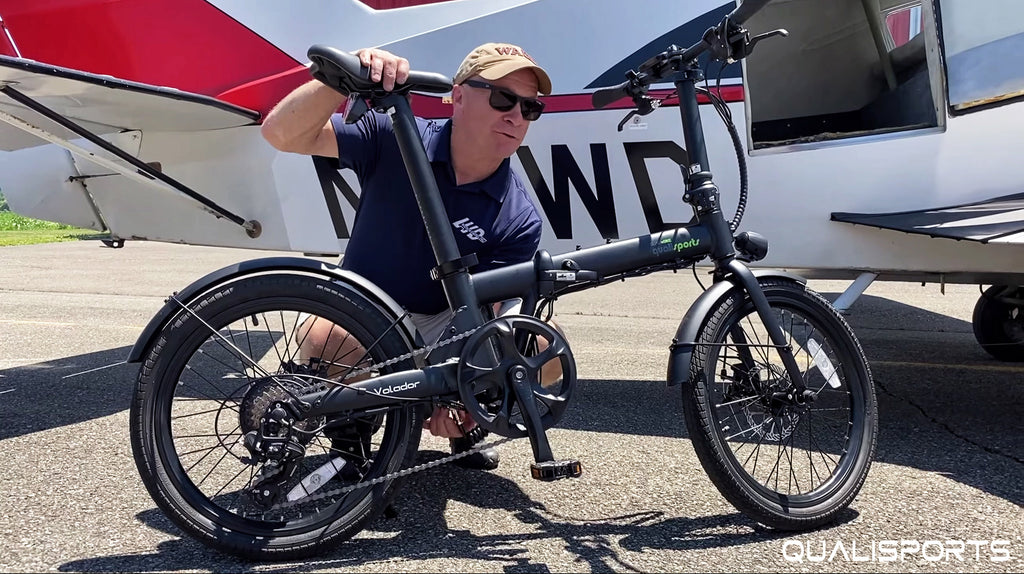 Easy, simple, but reliable, that is why Volador could become Mr. Watson's favorite incomers; that is also why Volador could really become a flying fish in the air. We sincerely hope those practical experiences and advice can provide a more detailed and comprehensive impression of Volador, and wish you can join us in the near future.
Gratefulness for Mr. Frank Watson's feedback video. Aircraft shown in the video is a 1966 BELLANCA 17-30 VIKING single engine aircraft from AviaBellanca Aircraft Corporation.
If you want to have a chance to meet with Volador in person, please access our offline corporator webpage and find the nearest store around you. We are also active participants in all kinds of exhibitions, and the latest one was AirVenture 2022, Oshkosh, at Booth: #383. Check with our community pages to see our next spot.