We are releasing the 2023 Dolphin this August. As many customers reached out to us asking about the new Dolphin, we want to share this exciting comparison between the old and the new! The new Dolphin will continue using the model name "Dolphin," and the dual battery Dolphin will use the name "Dolphin Plus (Dolphin +)."
Here are some highlight differences between the old and the new.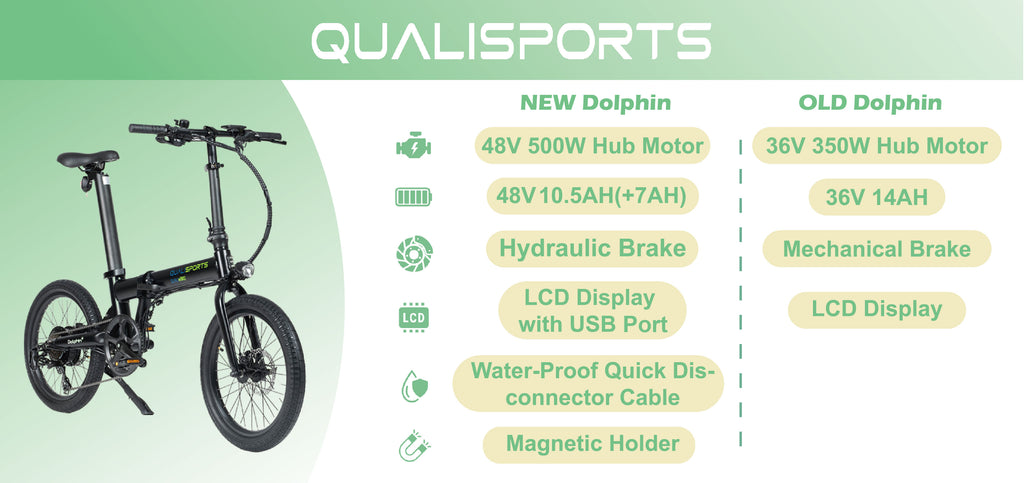 We want to share with you the significant improvements of the new Dolphin.
48V 500W motor:

more powerful
The 2023 Dolphin will have a 48V 500W motor on board which means customers are going to have more power with this new Dolphin. It will allow you to ride on hilly terrains easier. And with more torque, the new Dolphin can tow heavier and carry heavier without the rider's extra effort. Leave the rest to the Qualibike and what you need to do is enjoy the tour.
Dual battery system: more flexible
Over the years, we've been collecting our customers' precious feedback. Many look forward to a longer range, but the "more range" and "lightweight" always conflict. Now, you can have your cake and eat it. We developed a dual battery system, especially for folding e-bikes. With this system intergraded, our customers can choose between lightweight and long-range. In your daily use, if the trip distance is not essential, but portability is more important since you may need to carry the bike around, you can choose the Dolphin, which weighs only 48lbs. If a long range electric bike is your preference, the Dolphin Plus would be your choice; the removable main tube battery will add a 15~20miles range to the Dolphin. And the weight is 48lbs+4lbs. Most importantly: if you are a Dolphin owner and you want to add more range to your Dolphin later, you can buy a "DUALBA" kit then you can have a Dolphin Plus (video instruction will be provided); If you are a Dolphin Plus owner, when you want lightweight, the only thing is to take out the removable tube battery and leave it home or put in your bag.
GEOMETRY MEASUREMENTS Unfolded: Length 63.78'' Width 24.02'' Height 45.28'' Folded: 32.68 x 16.93 x 28.35 in.
Hydraulic Brake: safety is a priority
This is an exciting change on our Dolphin and Dolphin +. 
The most significant difference between the two types of disc brakes is efficiency. While both options perform better than traditional rim brakes, particularly in wet conditions, mechanical disc brakes struggle to match the efficiency of hydraulic systems. The reason is because of similar problems to rim brakes: Mechanical disc brakes still sugar from cable friction, meaning the force applied at the lever will be greater than the resulting force at the caliper. Alternatively, hydraulic brakes, which have fluid contained in the master cylinder, have a much more efficient braking mechanism in which fluid, which is already in the system, forces the brake pads together when the lever is pushed. This means hydraulic brake systems actually multiply the amount of effort put into the lever, so the braking force is greater than the force you put in. It can stop your powerful e-bike at once, especially when riding a 500W Dophin e-bike at a 20MPH top speed.
Hydraulic disc brakes give far better performance for less effort. They are also a sealed system, meaning less maintenance is required following set-up.
More functional display
It is upgraded to KT-LCD7, which comes with a USB charging port. You can add a phone holder and charge your phone while doing navigation. (NEVER text or call while riding. Safety should always bear in mind.)
Other minor changes like a water-proof quick dis-connector allow fixing your bike problems more efficiently. And a 3Ah quick charger, your bike only needs 3-4 hours to charge fully.
This is a brief introduction to our new Dolphin. If you have any other questions, please do not hesitate to drop us a line at info@qualisports.us.